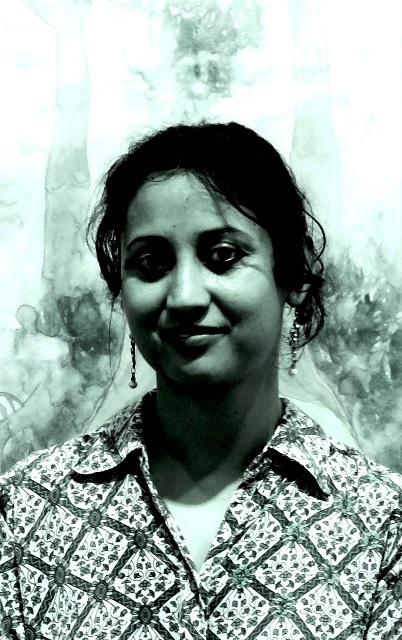 Rollie is a freelance artist and art critic based in Baroda, Gujarat. She has participated in numerous group shows and solo show within India and abroad. She did her Master of Fine Arts [Art Criticism], from Maharaja Sayyaji Rao University, Baroda (Dissertation: Allegory: A strategic Device) and Bachelor of Fine Arts (Hons.), Department of Art History, "KalaBhavan", Visva Bharathi, Shantiniketan.
Workshops:
First National Inter-Disciplinary course on Theory/Praxis, 18th-24th August, 2003, M.S.U. Baroda.
Interogating Cultural Studies, 2nd Workshop on Theory/Praxis, Forum on Contemporary Thought, 16th-22nd August, 2004, M.S.U.Baroda
Workshop for preparing of Visuals and Script for Adolescent Sexuality Education, 3rd-6th February, 2003Human Development And Family Studies, Department of Home Science, M.S.U. Baroda.
Exploring Masculinities – A traveling Seminar, 19th-20th December 2001, WOHTRAC, UNIFEM, AAKAN and Department of Sociology, M.S.U. Baroda
Art and Activism, 2004, Department of Art History, M.S.U. Baroda.
A.C.K.Raja memorial Artists Camp, 20th– 23rd May, 2007, Mallapuram, Kerala.
A workshop conducted for a project " The New Generation of Warli Artists" byJothi Xavier This is part of a IFA"s Arts Research and Documentation programme….Warli artist Residency fr 5th-8th April 2014. Warli artist residency was held on 4th to 8th of April 2014. 12 warli artists had participated in the workshop.I was selected as the main resource person. the main thrust of the workshop was to facilitate and create opportunities for innovation while being grounded in their tradition. enthused and enriched by the workshop, the artists now will be working in the coming days for a group exhibition.
Conducted a drawing workshop for the Green the Blue charitable Trust and GJEM  its fourth ecology workshop on 20th oct 2014 at the prakruti farm at Vadtal. Vadodara.
Exhibitions:
Solo Shows:
The other (as) self, solo show of paintings from 24th-27th December 2007at No.1shanthi road studio gallery, Bangalore.
Unframed"histories", online solo show at www.pickoneartist.com, from 19th sept to Oct 19th, 2013.
Group Shows:
Selected for 9th southern region Camlin art exhibition 2007, at Chitramayee, state art gallery, Hyderabad from December 6th to 11th
Participated in a group show "visualizing Alterantive realities", at Chitramayi, State Art gallery, Hyderabad from 14th to 20th Feb 2008.
A.C.K. Raja memorial exhibition, 23rd may, 2007, Mallapuram, Kerala.
Inaugural show at Pallete Art gallery, Jodhpur, 20th       April 2008.
"Some other views from a city", Pallete Art Gallery Jodhpur, 13th to 26th , May 2008.
A group show at S.K. Gallery, Calicut, 10th to 20th May 2008.
A group show at Kalapeedam, Cochin 30th May to 14th June 2008.
A group show curated by Suresh Jayaram for "Voices from the Waters" , 3rd International Film festival on water, Bangalore,13th to 18th September, 2008.
A collaborative installation for "save secularism, save democracy" public rally in Bangalore, 6th October,2008.
"Yearnings", a group show at Maya Art Gallery, Bangalore,18th October-2nd November, 2008.
A group show at gallery Exotica, Bangalore, December, 2008.
Polyphony, a group show at Dravidia Art Gallery,Fort Cochin,Kerala,23 dec 2008-Jan 30th2009.
"Multitudes", a group show in Durbar art gallery, Cochin, 9th to14th march,
organised by Zen studio gallery, Kerala.
"Multitudes" a group show in Max Muller Bhavan, Bangalore, organized by Zen studio gallery in association with Artflute.com and Max Muller Bhavan from 19th to 27th of June 2009.
Participated in the online curation titled "site under construction" by theotherspaces.com
Participated in the Group show "Contexts and Locations" at the Faculty of Fine Arts, M.S.University, Baroda, December 7th to 9th, 2012.
Remembering the present-a group show curated by V.. Divakar at gallery Site Baroda from 14 feb to march1 2013
FLUID   a group show on Water Colour at Site Gallery Baroda.june 17, 2013.
Agroup show titled – (In)to the middle of the "stories" from 15th march to 14th April ,2014 at gallery OED Cochin (The show has been conceptualized by Rollie Mukherjee
The 25th anniversary exhibition-"Drawing 2014" ( 7 decades of Indian Drawing ) from 14th Nov.-28th Nov.2014 at the Indira Gandhi National centre for the Arts (IGNCA)New Delhi curated by Prayag Shukla and Annapurna Garimalla and Sindhura B.M / organized jointly by gallery Espace New Delhi and Jackfruit Research and Design Bengaluru.
AwardsL:
"Progressor Award" – Diploma awarded by Soviet Woman Magazine, for the topic "How Beautiful is the world", 8th International Children Painting, 3rd Prize, Bolgoglad Children Art Center, September, 1991.
Krishna Roop Book Prize,Viswa Bharathi Shantiniketan, 2000.
Runners-up, ICS Painting Competition, Jabalpur, MadhyaPradesh, 1990.
Merit Scholarship- consecutively from 1997 to 2002, Vishwa Bharathi, Shantiniketan.