Lopamudra is a self-taught Artist and loves to experiment and learn more and more in Art field. She explores her creativity with different mediums and enjoy working in pen and ink medium most of the times. Art is like a meditation to her which satisfies her peace finding soul.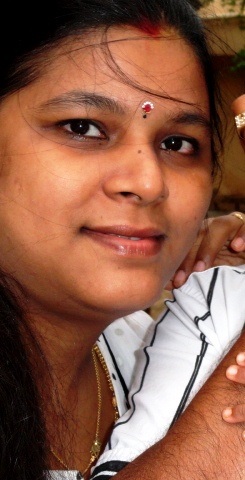 She intends to build a career in Art and culture. Art which express a Soul enlighten of life. It enhances the essence of each object. Art is a language of Heart, Mind, and Soul in-cop with hand to present in a medium of work for the Artist. So she wants to be an Artist in the real meaning. She is working as an Artist from her childhood days. She attended a numbers of competitions and national level art camps all over India. She is inspired by nature. The mythology of India guides her a lot.
View her bright creations
Eminent Senior Artist Late Sri Ajit Keshari Roy, Rabi Narayan Rath, Siba Panigrahi, Baldev Maharatha, Ashish Pandye, Smt Sailabala Nayak and many other Artist along with Prof. Kartik Ch. Rath and C.N. Rudrapa chief Admin Chitrakala Parisad,kartnatak have a vital role in guiding her as an Artist.
Solo Shows:
Karnataka Chitrakala Parisath, Bangalore – 2012
Karnataka Chitrakala Parisath ,Bangalore – 2011
Rennnaiance art gallery , Bangolore – 2011
International Club, Cuttack-2006
Camel Creative Art – cuttack – 2005
The Samaj Art fest ,cuttack – 2005
South Asian Fraternity camp – Panjab, Puri ,Delhi – 2001,2005
Bharat Sanskuti darpan mahotsav – Deheradoon – 2004
All India Artist Association ,Shimla – Mumbai – 2000,2001,2002,2003
NIPA and IATA, New Delhi – 2003
Expo Art Fest, Puri , Odisha – 2002 ,2003
X-tasy Art fest,BBSR-2001,2002
Utkal yuva Sanskutik Sangha – 2000
Fevicryl Art Contest – Cuttack , 1996
Kala o Kalpana – cuttack 1991
Creative Art Forum : Art fest– Puri 1999,2003
YMCA cuttack – 1994
Ravenshaw Colligiate School cuttack – 1994,1995,1996
Bharat Scout n guide Association -1994
Sahid Bhavan –cuttack -2000,2001
Shree Ramchandra bhavan cuttack -1993,94,95,96,97,98
Group Shows
Chitra Santhe 10 – Bangalore – 2013
Artbengaluru Art fest'UB City – Bangalore – 2012
Chitra Santhe 9 –Bangalore -2012
Jaydev Bhavan – BBSR -2000,2001,2002
Subhadra Art Gallery BBSR – 2008
Appreciation from:
Print Media:
The Samaj, The Dharitri, The Prajyabeyak, The Odisha Bhaskar, The Pragatibadi, Ama Khabar, The Anupama A Bharat, The Sachitra Bijaya, The New Indian Express, The Times Of India, The Enadu, The Prajamani, The Sambad.
     Electronics Media:
          O TV Twin City Round, ETV Prativa, ETV Kanada.
Recent Award : Second Runners up in All india Art Exhibition at supriya kalanilayam,Ongole, A.P