Aparna never understood her undying thirst for colors…the dead black of the charcoal ,the contagious laughter of colors…the blank spaces..the unspoken and the bounty of nature… they beckoned her to come to them , weave a story…. Life unfolds itself as a mystery…sometimes colorful and pleasant and at times melancholic…. an inspiration , a thirst for more. ..the feeling of incomplete…the essence of a void..The missing, the questions unanswered…. The desires unfulfilled.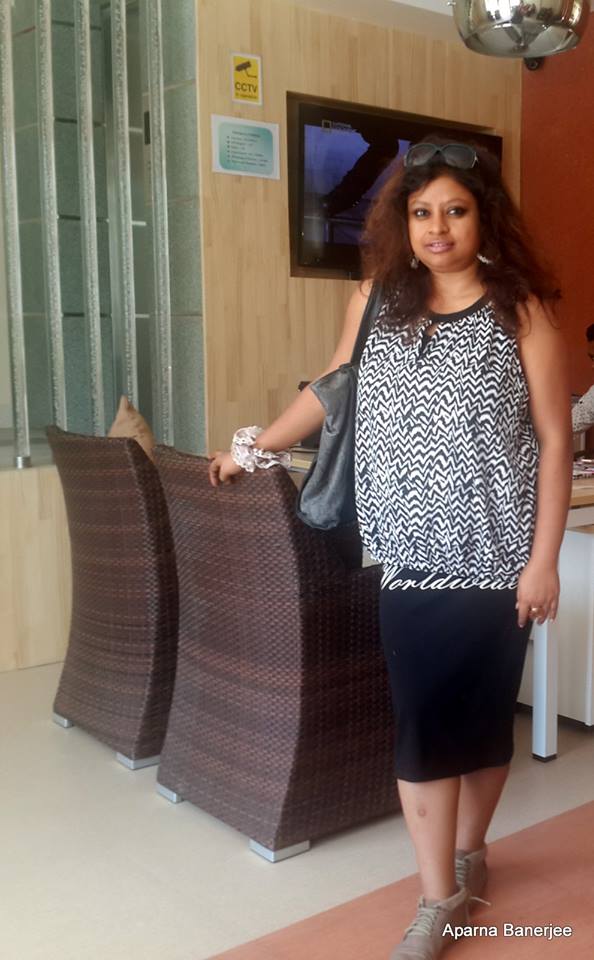 The crevasses and the upheavals as they find a way to remain omnipresent. The anxieties and disappointments and accomplishments and joys residing and submerging in harmony but leaving a void yet again. The need to breathe, to live and not just survive. The need to shout and scream in the dead of silence.
All these emotions contribute significantly to her form of art. The textured surfaces, as life has been, beauty in every nook and corner..Be it in the colors or in the dark…as the emotions and colors blend into one another…she finds herself embalmed.
Visit her Brilliant Brush strokes
Achievements
Awarded the best "Creative Designers Award" by Delhi Tourism, at Shringaar Utsav and May Queen Ball.
Was selected as one of the top most aspiring designers by RBFF [Ritu Beri's Fashion Fraternity] and Siyaram.
Technical Qualifications
June 1997 Diploma in Fashion Marketing and Merchandising from
National Institute of Fashion Technology, NIFT (Delhi).
June 1994- 95 Diploma in Fashion Designing from IIFT.
Cadtech in Fashion.
CERTIFICATE IN ART HISTORY COURSE 11 ,CONDUCTED BY MATI , MANAGEMENT OF ART TREASURES OF INDIA 2014                                  
AWARDED THE BEST CREATIVE DESIGNER AWARD BY DELHI TOURISM FOR PRESENTING A COLLECTION ON DELHI `S HERITAGE ON 2ND APRIL 1994 AT DELHI HAAT , NEW DELHI
SHORTLISTED BY RITU BERI FASHION FRATERNITY TO PARTICIPATE IN SIYARAM`S DESIGNER`97 AT TAJ PALACE HOTEL, NEW DELHI FROM 29TH TO 31ST AUGUST 1997.
GROUP EXHIBITIONS OF PAINTINGS AT CAPITOL ART LOUNGE,THE ASHOK , CHANAKYAPURI , NEW DELHI FROM 31ST MARCH TO 19TH APRIL ,2011
KORNIK, ART AND CULTURE DEVELOPMENT SOCIETY HONOURED ME FOR MY CREATION AND CONTRIBUTION TO THE 12TH ART FAIR, FROM 13TH TO 15TH MARCH 2011, AT R .N. BOSE BANGLA LIBRARY, DEOGHAR
CONFLUENCE ,A GROUP SHOW OF SEVEN ARTISTS FROM ACROSS THE COUNTRY AT BIRLA ACADEMY OF ART AND CULTURE FROM 12TH TO 17TH JULY 2011
CHALLENGE 9 , BY ARTS AROMA IN SEOUL , SOUTH KOREA AT SPACE INNO GALLERY FROM 3RD TO   5TH OCTOBER 2011
CHALLENGE 10, BY ARTS AROMA AT NEW AGE INN BANGKOK, THAILAND FROM 11TH TO 13TH OCTOBER 2011.
PARTICIPATION AT INDIA ART FESTIVAL, AT NEHRU ART CENTRE, WORLI, MUMBAI, FROM NOV 17TH TO 20TH, 2011
RENGE ART SHOW ON 24TH AND 25TH OF DECEMBER 2011 AT ARALIAS CLUB GURGAON
4th NATIONAL ART EXHIBITION ORGANISED BY INDIAN NATIONAL FORUM OF ART AND CULTURE, FROM THE 16TH TO THE 22ND OF JANUARY 2012 AT KARNATAKA CHITRAKALA PARISHAD, BANGALORE
SOLO SHOW WITH GALLERIE ART ETERNE FROM 26TH OF FEBRUARY 2012
PARTICIPATION AT INDIA S FIRST ART WALK WITH RENGE ART HELD AT GURGAON GOLF CLUB ARALLIAS ON THE 3RD AND 4TH OF MARCH 2012
PARTICIPATION AT STREE 2012 AT ARTMALL DELHI FROM 10TH MARCH 2012
PARTICIPATION AT THE 2ND ART WALK WITH RENGE ART AT DLF EMPORIO DELHI 23RD TO 25TH MARCH 2012.
GROUP SHOW IN AUSTIN, TEXAS [U.S.A.] AT BARSANADHAM ART FAIR ON 28TH AND 29TH OF APRIL WITH ARTSAROMA.
PARTICIPATION IN A GROUP SHOW ,MIGNON,HELD AT THE ART LOUNGE CAPITOL , THE ASHOKA,IN NEW DELHI,FROM 11TH JULY 2012 TO 30TH JULY 2012.
PARTICIPATION IN A GROUP SHOW VISION AND CREATION 2012, AT ACHARYANANDALAL BOSE ART GALLERY, JAMSHEDPUR, FROM THE 14th TO THE 20th OF SEPTEMBER 2012.
GROUP SHOW AT THE ART SHED, GURGAON, ON THE 6TH AND 7TH OF OCTOBER 2012.
A group show of 5 artists "through our Eyes" at The Art Value, New Delhi, from the 20th of November to the 26th of November 2012.
A GROUP SHOW ORGANIZED BY RENGE AT DLF ARALLIAS CLUB GURGAON ON 16TH AND 17TH OF MARCH 2013.
AN ONGOING GROUP SHOW AT STUPA 18 GALLERY NOIDA FROM THE 7TH OF APRIL TO 18 OF APRIL 2013.
A ONE MONTH LONG SPONSORED SOLO EXHIBITION AT HOTEL SURYAA, NEW DELHI, FROM 2ND JUNE TO THE 5TH OF JULY 2013.
GROUP SHOW AT CYMROZA ART GALLERY ," HEAVEN ON EARTH" IN MUMBAI FROM 17TH JUNE TO 22ND JUNE 2013
A TWO DAY ART EXHIBIT "COLORS OF FREEDOM" ON 24TH AND 25TH OF AUGUST AT DLF ARALIAS CLUB ,GURGAON WITH RENGE ART
EXHIBITION AT GALLERY GOLD , KOLKATA , "INNER EYE" FROM THE 30TH OF AUGUST TO THE 4TH OF SEPTEMBER 2013 ,EXTENDED TILL THE 8TH OF SEPTEMBER 2013 .
A TWO DAY ART EXHIBIT AT DLF ARALIAS CLUB GURGAON , "MY TRUE CALLING" DATED 7TH AND 8TH OF SEPTEMBER 2013.
A GROUP ART EXHIBIT, "CANVAS OF INDIA" AT THE STATE ART GALLERY IN HYDERABAD, FROM THE 3RD TO THE 7TH OF OCTOBER 2013.
A SOLO ART EXHIBIT AT THE LALIT KALA ACADEMY FROM THE 1ST TO THE 8TH OF NOVEMBER 2013.
A GROUP SHOW AT THE AMERICAN EMBASSY FROM THE 11TH TO THE 17TH OF DECEMBER 2013.
ART WALK AT THE CYBER HUB WITH RENGE ART IN GURGAON ,ON THE 13TH AND 14TH OF DECEMBER
A SOLO ART EXHIBITION AT THE RAJPUTANA SHERATON, JAIPUR, FROM THE 14TH TO THE 20TH, 2 OF DECEMBER 2013.
AN INVITED ARTIST TO THE JASU SHILPI ART FOUNDATION, 10TH DECEMBER 2013 ONWADS.
ONE OF THE SELECTED ARTISTS TO BE SHOWCASED AT THE DELHI INTERNATIONAL FILM FESTIVAL FROM THE 20TH OF DECEMBER 2013 IN NEW DELHI
A SOLO ART EXHIBIT AT TAJ PALACE, NEW DELHI FROM THE 23RD TO THE 29TH OF DECEMBER 2013.
SELECTED BY EURO ASIAN WORLDWIDE TO SHOWCASE WORKS IN THEIR UPCOMING ART FAIRS IN AUSTRIA , IRAN AND OTHER COUNTRIES.
A GROUP SHOW ORGANIED BY THE PALETTE GROUP IN THE HUDCO ART GALLERY ,NEW DELHI FROM THE 6TH TO THE 12TH OF MARCH ,2014 .AWARDED THE BEST ART WORK BY A PANEL OF EMINENT ARTISTS OF THE COUNTRY IN THE SAME SHOW .
PARTICIPATION IN GLOBAL ART EXPOSE` , APRIL 12TH ONWARDS , 2014
SELECTED BY THE AVISKAR AWARD GROUP TO SHOWCASE WORKS IN APRIL 19TH , 2014 IN GALLERY GOLD, KOLKATA.
WORK SELECTED BY CONFLUENCE 14 , SHOWCASED IN NEW DELHI ,APRIL 25th TO 1ST OF MAY 2014
SHOW ORGANIZED BY HAMMERARTAG.COM AT AIFACS , ART4FORTUNE ,NATIONAL ART ICON , NEW DELHI FROM THE 27TH TO THE 29TH OF MAY ,2014
PARTICIPATION IN ATHINA ART FAIR IN GREECE FROM THE 6TH TO THE 12TH OF JUNE ,2014
WINDOWS FOR INDIA ,BASEL , SWITZERLAND ,16TH TO 22ND OF JUNE , 2014
PARTICIPATION AS A GUEST ARTIST IN A GROUP SHOW ,SHADES ,ORGANIZED BY ANOKHI , IN LALITHA KALA ACADEMY, TRIVENDRUM , FROM THE 6TH TO THE 14TH OF AUGUST , 2014.
ART SUMMIT IN MALDIVES ,24TH TO THE 29TH OF SEPTEMBER 2014
ART FACTORY AWARD SHOW IN ICCR KOLKATA (26TH TO THE 30TH OF NOVEMBER)
ALLA PRIMA INTERNATIONAL ART FAIR FROM THE 11TH TO THE 15TH OF DECEMBER 2014